It doesn't look like it's getting better any time soon either.
And it's not just in America, things are going downhill all over the globe.
People are getting forced out of their homes, jobs are being cut, and gas prices are getting ridiculous.
(If you think American's have it bad, try paying over $10 a gallon like the British have to!)
All of this is going to affect you and I as marketers, or anyone who's trying to make money by selling products or services to others.
Why?
Because people simply don't have the money to spend on the things that they NEED to live.
Mortgage payments every month. Bills that need to get paid. And all of this leaves them with nothing to spend on non-essential items.
Are You Making This Same Mistake?
The truth is, if you're trying to make money online, then chances are you're in the "sell internet marketing stuff to other people looking to be internet marketers".
Am I right?
It's nothing to be ashamed of. That's how I got started too.
In fact, the "internet marketing" niche has been very good to me.
At just 25, and fresh out of university, my wife and I were able to buy our first home with a 50% cash deposit ... all thanks to the "internet marketing" niche.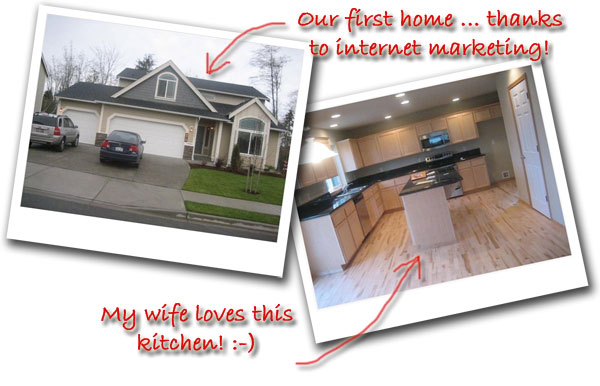 But now … I'm starting to think it's a BIG mistake, especially for anyone who's just getting started.
It's
so much work
to try and make your way in such a competitive market, especially the way things are right now.
There are more and more people trying to be internet marketers, and less and less people with money to spend.
It just doesn't make sense to try and get into a market like that, particularly if you still consider yourself a beginner.
There's just SO much competition
... So much already out there!
But it's not the end of the world.
Remember I told you there IS a right way to do things:
If you want to build a real "recession-proof" business, a business that will make money for you continuously, regardless of the economy, then you need to focus on one thing…
Building A REAL Business In A

Hungry

Niche Market.
A market where people are STILL hungry, no matter WHAT the markets are doing. Where the market NEEDS what you're offering, not just wanting it.
*If*
you know where to look, you can always find niches where people are spending money on the essential things they need...
Often these markets are so big and so hungry, that all you need to do is simply create a product then find a way to stand in front of them.
Ok, so by now you're probably thinking…

"That's great Richard...

But I know *nothing* about finding niches or creating products for them, so how is this going to help me ...
...someone who's a complete beginner?"


I've been marketing online for over 5 years now so I know about driving traffic, building lists etc…
BUT ...I'm NOT an expert on niche marketing either, but I know someone who is. And this guy...
He finds these insanely hungry markets in his SLEEP.
More than likely you've never even heard of my buddy/mentor Eric Farewell.
And to be honest, until a few months ago, neither had I.
He's someone who likes to quietly work away, behind the scenes, but he's probably the most absolute authority on niche marketing that I've EVER come across in my 5 years of working online.
This Guy Makes

ME

Feel Like A Newbie!